GEOGUARD® - Smooth Polyethylene Geomembrane
High Insulation Performance
in Mega Storage Sites
During production, polyethylene is prepared with raw materials, dyestuffs and auxiliary additives. They are insulation membranes that are homogeneously shaped by means of a calender system after undergoing the necessary processes in extruders. HDPE stands for high density polyethylene, LLDPE stands for linear low density polyethylene.
According to different usage areas, high density polyethylene geomembranes are named as HDPE, low density polyethylene geomembranes as LLDPE-VLDPE. Such polyethylene geomembranes produced using high density polyethylene material are used as a barrier to prevent liquid and gas passage especially in waste storage areas in the world.
T-Grip HDPE - LLDPE Geomembran
T-Grip HDPE / LLDPE Geomembrane
It is a model that allows the geomembrane to attach to the concrete and has protrusions extending at certain intervals along the roll. Especially used in sewage collectors, sewage concrete pipes, walled irrigation and water transmission canals and other applications suitable for such details. It has achieved high success in insulation by applying it to the mold surface in the basement tanking with dense amount of water.
The material is black, homogeneous and single-colored. Special production can be made in different colors upon request. It can be produced flat or textured according to the need. Signal Layer HDPE Geomembrane (HD-ST) is a geomembrane model with a thin and light layer on one surface to facilitate the detection of damages. When the material is hit, the thin, light layer is broken and the underlying dark color appears. The impact part is easily noticed when visually inspected.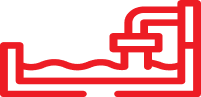 Irrigation Canals and Water Transmission Canals
Solid, Medical and Hazardous Waste Areas
Ponds and Pools
Mining Fields
Oil Fields, Tanks